Taking pictures is an art. is a passion.
That's why we always want to have the best camera.
So we tried to list the best, best-selling DSLR cameras for this.
There were many criteria to list. However, we are based on user reviews and reviews.
We see that Canon dominates our list. It has many products and the company is constantly updating itself.
We have also selected some of our products as kits so that our users do not need to review these kits and look for other platforms.
Now, let's go and take a look at our list.
1

Canon EOS Rebel T7 DSLR Camera Bundle
This is Canon's EOS Rebel T7. We are talking about a camera where you can take professional photographs. The EOS Rebel T7 has a large CMOS sensor of 24.1 megapixels. It has an autofocus function, so you can get a much clearer picture. It comes as a kit with this camera, we recommend you to review this kit. They included everything from the memory card to the neck strap. Click the button below for details.
2

Nikon D3500 DSLR Camera with Accessory Bundle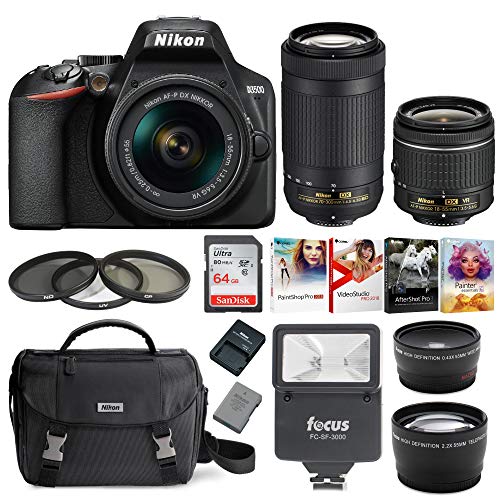 Our next product is from the Nikon family. I can say that it is a recommended camera, especially for beginners. Nikon's EXPEED image processing system enables you to capture high-resolution images.
Inside you will find detailed lenses for good shots. Let us give examples of the elements in this kit; Wide Angle lens, sd card, Corel Deluxe Software and more.
3

Canon EOS 4000D / Rebel T100
Our next product is from Canon again. Canon is one of the leading companies in the world of cameras.
They have a kit again, but they are smaller than others; Canon EOS 4000D, tripod, memory card, card reader.
The Canon EOS 4000D features an 18.0MP APS-C CMOS Sensor, 9-Point Auto Focus, Full HD 1080p Video Recording and 29.97fps. Another remarkable feature is that you can command and share from your phone.
4

Canon EOS Rebel T6 Digital SLR Camera Kit
Capture the most beautiful landscapes and turn your photo shooting into complete fun. We offer you the Canon EOS Rebel T6 with a score of 4.6 out of 5.
Full HD 1080p Video Recording at 30 fps. 18.0 MP APS-C with CMOS Sensor. We can call it an entry-level machine.
In fast mode, you can shoot at 3 frames per second. The device has WiFi and NFC connections, so you can access the pictures wirelessly.
5

Sony a7R III Mirrorless Camera
Here is another player from the world of Photographic Machines. This time comes from Sony; Sony a7R III Mirrorless.
It features a 42.4 MP Backlit CMOS Sensor and features Enhanced Auto Focus. You can also take professional-quality shots with High Definition 4K Movie Capture. Another highlight is the improved battery life.
Click on the button below to find out more about the camera.
6

Canon EOS Rebel T6i SLR Camera
We continue our list with the Canon family EOS Rebel T6i SLR. High Resolution 58mm Wide Angle lens. Also water resistant. A 3-piece filter set is also available. There are many tools and products you might need on a camera. You can reach detailed information from the link below.
7

Canon EOS 5D Mark III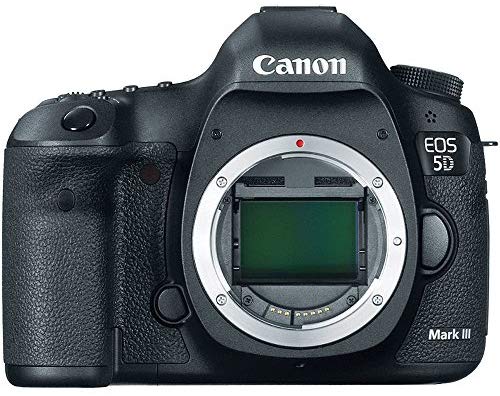 Canon EOS 5D Mark III A camera designed to produce high-resolution, detailed images.
Combining a 22.3 megapixel CMOS sensor and DIGIC 5+ image processor, the camera is capable of capturing 6 frames per second continuously.
Thanks to the 61-point wide-area AF system, you can focus with 3-speed precision. You can also record 1080p video. However, the device is made of magnesium alloy body, can be specified as very durable.
Let us state that there is no lens on the product. Although it was released in 2012, it is still on the list of well-sold DSLR cameras.
8

Nikon D7500 4K Ultra HD DSLR Camera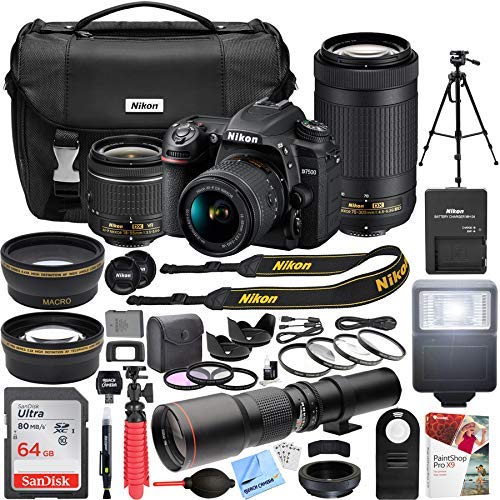 Our next product is the Nikon D7500.
First of all, we must say that he is a premium member of the Nikon family. The 4K camera has 20.9MP.
If we use the phrase yanlış perfect picture quality ay, we wouldn't be wrong. 51 point AF system with 15 cross-type sensors and continuous shooting capability up to 8 fps. The device has an LCD touch screen. Wi-Fi and Bluetooth connections are also available for wireless connection.
The kit comes with a wide range of products. You can also click the link below for details.
9

Canon EOS 80D Digital SLR Camera Body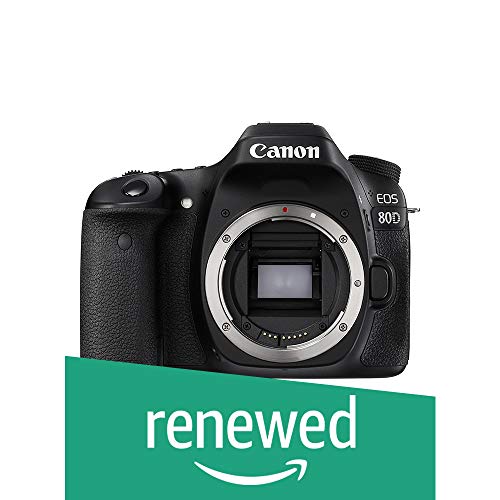 We continue our list of the best DSLR cameras with the Canon EOS 80D. Released in 2016, the product has a 45-point all-cross AF system and features a 24.2 Megapixel (APS-C) CMOS sensor. This combination produces extremely high-resolution results. There is a Digic 6 processor on the device, which allows you to take 7 frames per second. It is also possible to shoot 1080p 60 fps quality video. That's a monster.
10

Canon EOS 6D
I think Canon has dominated our list.
Photographer friends know 🙂
The machine with a Digic 5+ processor comes with a 20.2 MP full-frame CMOS sensor.
It is capable of shooting at 4.5 fps per second and offers the option of recording a 1080p 30fps video.
There is a feature that has never been used on a Canon camera before: Built-in GPS
This allows users to tag images with GPS coordinates and remember shooting locations. We liked this property.