Keeping our children entertained and happy is what we care about the most.
However, while they have fun, we also expect and want them to develop both physically and mentally while playing.
Therefore, we pay more attention to these issues when buying or gifting a toy.
For this reason, we have tried to list the toys that they can have fun and learn by benefiting from the blessings of technology.
While preparing our list, we carefully selected the age groups of the toys and took the user comments and suggestions as a reference.
We also have products recommended by Amazon.
Here are the top 10 electronic toys sold on Amazon …
1

Windy City Novelties Walking Realistic Dinosaur
This dinosaur is really scary. He roars mercilessly. Wow! It has red, blue and green colors. have a on / off button. When you open it, the eyes and the tongue lights up. Recommended for children older than 3 years.
We found it a little creepy. But 80% of users liked the product. It's up to you.
2

LeapFrog Scout and Violet 100 Words Book
Do you want to teach your child new words? Do you want to surprise him?
The next toy is for you. In Scout & Violet 100 Vocabulary Book, you can teach your child new words as well as entertain him with sound mode. Powered by 2 batteries. Designed for children from 18 months to 4 years.
Words selected by learning experts. There are also bilingual words in both English and Spanish.
There are even two learning songs. We liked it very much. We'll buy it! When we have children 🙂
3

VTech Smart Shots Sports Center
We continue our list with an exciting game for every child: 2-in-1 kids basketball hoop sports center.
Animated lighting led scoreboards can count up to 10 baskets. Educational toy for children from 1 to 3 years, working on 3 batteries. Encourages children to play with refreshing sounds and expressions. There is an aspect of the tutorial with voice notifications.
4

VTech Ultimate Alphabet Train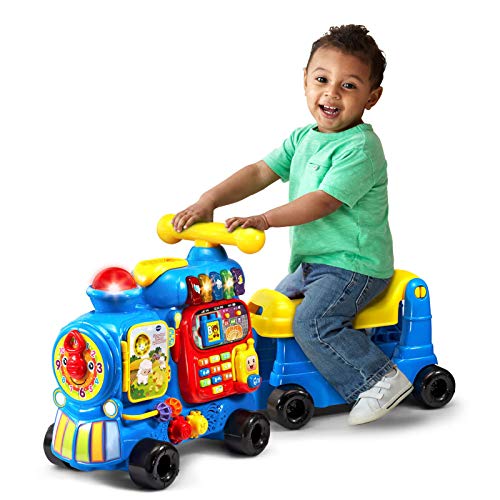 This train is designed to grow with your child and can be used for flooring or as a ride that turns into a walker.
Letters, numbers, colors and more you can learn and do both activities.
The train is also like a storybook. The watch helps you develop fine motor skills with a variety of manipulative features, including gears and 13 two-sided letter blocks that your little child can put next to the train to learn letters and build vocabulary.
We know that it is suitable for children aged 1 to 3 years. It also works with 3 AA batteries. 88% of users are satisfied with the product. Obviously we loved it too.
.
5

PartySticks Glow Sticks
Glow Sticks. The kind that adults can love just for kids. Create an easy and sparkling atmosphere with 200 glow sticks. Made of durable material. Waterproof and no toxic material used.
6

400 Glow Sticks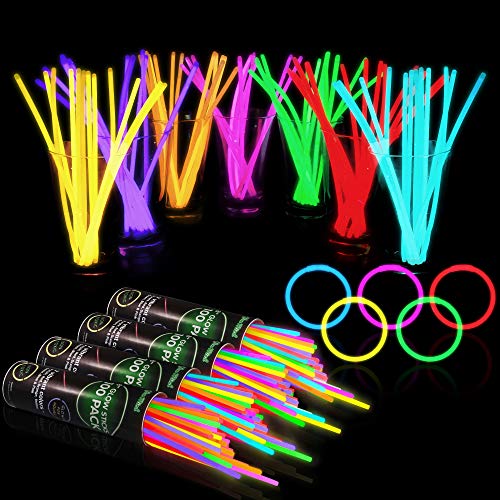 Kids love this style of illuminated toys. These Glow sticks are from Glow Mind.
Sturdy and very durable. There are no toxic and harmful substances in it. Available for 6 hours.
We liked the product. It wouldn't be here if we didn't like it 🙂 It's also one of the products Amazon recommends.
7

VTech Write and Learn Creative Center
Here's another fun toy on our list. Tutorial toy magnetic drawing board.
With this board, your child will have fun and learn many things by writing and drawing. develop their creativity.
The ideal toy for children from 3 to 6 years. You can operate with 2 AA batteries.
Watch out, a little artist may be coming 🙂
8

Walkie Talkies for Kids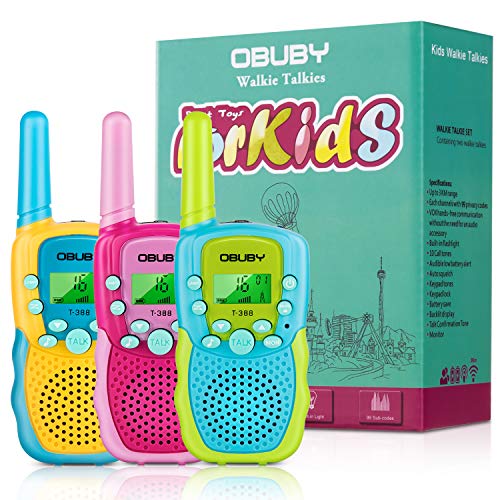 Here is a beautiful toy that will blow the minds of children. You can treat it as a gift.
Central listening 🙂 Walkie talkies produced for children. Blue, pink and yellow colors.
22 channels and up to 3 miles of communication in open space. For children between 3-12 years, boys and girls in every category as a gift you can surprise your child by evaluating.
9

LeapFrog Number Lovin' Oven
 Our next toy is LeapFrog Number Lovin 'Oven, which makes learning numbers fun.
In a game prepared with a bakery concept, it not only improves counting but also feeds the phenomenon of sharing on food.
1 interactive oven, 4 pizza slices, 3 pieces of bread, 2 cakes, 1 fried egg, 1 pan, 1 spatula, 1 baking tray, and 2 plates. It also plays songs when you press the keys of the oven. Suitable for children from 2 to 5 years. This interactive toy requires 3 AAA batteries.
93% of users liked the product. We liked it too.
Let your child make a cake and sing a number with fun songs 🙂
10

LeapFrog Scribble and Write Tablet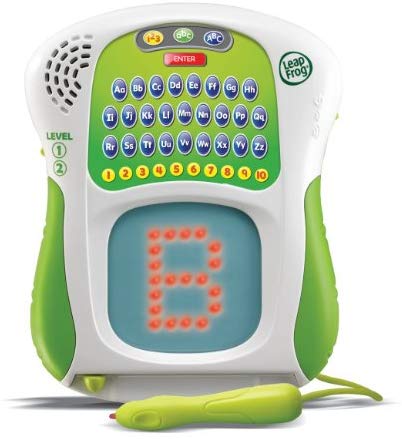 We will refer to a product made to write and count in the final product of our list.
Designed to teach all letters and numbers between A-Z and 1-10 in a fun and interactive way. In this beautiful game, your child will write and learn by following the lit lights with the help of an easy-grip pen. Parents who tried the product developed by LeapFrog also liked it: 4.3 out of 5.