Americans spend more than 4 hours a day at the beginning of the television.
Although there is a debate about this, television is one of the channels where we provide the most information flow after the internet.
For this reason, we pay attention to our choice of television.
We have prepared the best-selling televisions in America for you on this list.
Of course, we are struggling with many criteria when choosing television. That's why we always have a hard time choosing.
In fact, when we determine the features we need, the rest comes automatically.
Here's a list of the best televisions in America we've prepared for you.
1

TCL 55 inch 4K Smart LED Roku TV (2019)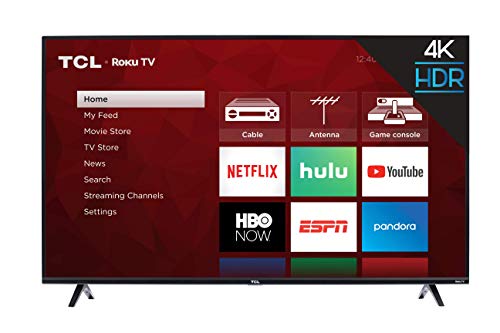 TCL, one of the world's largest TV producers, is the fastest-growing TV brand in America. This television is equipped with 4K Ultra HD. HDMI, USB, RF outputs are available. 55 inches in size.
On TV comes a new platform called Roku TV. With this platform, you can watch more than 500 movies and TV series. The negative feature is the use of dim panels, narrow range of colors.
2

TCL 49 Inch 1080p Smart Roku LED TV (2019)
One of TCL's Full HD televisions. It has a resolution of 1080p. They have Wi-fi. The built-in TV tuner is available. It's 49 inches. Compatible with Alexa and Google Assistant.
Users particularly agree on the quality and ease of use.
However, the price of around $ 249 makes the product attractive.
3

Samsung UN55RU7100FXZA 4K UHD Ultra HD Smart TV(2019)
4K HD image event is an important technology. In this sense, Samsung's TV optimizes your TV's performance with 4K picture quality. Of course, there is a smart tv feature, with Alexa and Google Assistant compatibility and smart speaker expandability. They have 3 HDMI and 2 USB interfaces.
However, it should be noted that the TV software is outdated and slow. In addition, we can show the lack of local dimming.
4

Toshiba 55LF711U20 55-inch 4K Ultra HD Smart LED TV – Fire TV Edition
Toshiba'nın 55 inçlik Fire TV entegreli modeli. Akıllı TV olmasının yanında Fire TV entegrasyonu tamamlanmış durumda. Bununla beraber Alexa ile sesli uzaktan kumanda ile kontrol edebiliyorsunuz.
Benim şahsen beğenmediğim yönü ise; dahili bir HD anteninin olmaması.
5

LG 55UM7300PUA 55″ 4K Ultra HD Smart LED TV (2019)
LG. we cannot discuss the quality of the televisions it produces. But we can choose one of them 🙂
This TV from LG comes with a quad-core processor.
and the bomb is coming. LG AI TVs are the first country in which Google Assistant and Alexa are built to use LG ThinQ AI technology to become the center of your smart home.
Multi-format 4K high dynamic range supports HDR10 and HLG with LG's advanced tone-mapping technology, which further optimizes both scenes. LG TVs are designed to be at the center of any home theater.
It also has a very slim frame, the design stands out with stylish and modern lines.
6

Insignia NS-24DF310NA19 HD Smart LED TV- Fire TV Edition
Insignia HD Smart TV – Fire TV Edition promises 720p picture quality with deep blacks and rich colors. With the built-in Fire TV experience, you'll be able to access tens of thousands of channels, including platforms such as Netflix, YouTube, and Prime Video. You can reach and watch Hulu, HBO, SHOWTIME, STARZ and more.
It is 24 inches in size. Those who have a TV generally prefer because of the price.
7

Samsung QN65LS03RAFXZA Frame 65-Inch QLED 4K Ultra HD Smart TV (2019 Model)
Next TV is totally unusual. This product, developed by Samsung, has benefited from quantum technology. HDR10 + supported, 4K detail depth with high dynamic range delivers the lightest and darkest colors from the scene for incredible picture realism.
I would also like to talk about a special feature of this television; When you don't watch television, Frame turns into a beautiful work of art; When you enter the room by activating the built-in motion sensor, your TV shows one of your favorite choices. I liked it and found it marginal.
And of course, Samsung's smart control.
8

LG Electronics OLED55B8PUA 55-Inch 4K Ultra HD Smart OLED TV (2018)
AI (Artificial Intelligence) This new LG OLED TV with ThinQ features a built-in Google Now, making it the center of the smart home.
Talk to LG Magic Remote to search for the programs you're looking for, change TV settings, switch to different inputs, and more using Intelligent Voice control. Which, I think, is one of the most sought-after features today.
It also works with Amazon Alexa devices.
Dolby Atmos is the same sound technology developed for state-of-the-art cinemas; it seems to come from anywhere and excites you.
Inputs: 4 HDMI, 3 USB, 1 RF, 1 Composite, 1 Ethernet, 1 Optical, 1 RS232C (Mini Jack) and Audio Return Channel Support via HDMI.
We don't want to overwhelm you with very technical details. But let's just say, on this TV from 2018, you'll feel the 4K image literally.
9

Insignia NS-50DF710NA19 50-inch 4K Ultra HD Smart LED TV Fire TV Edition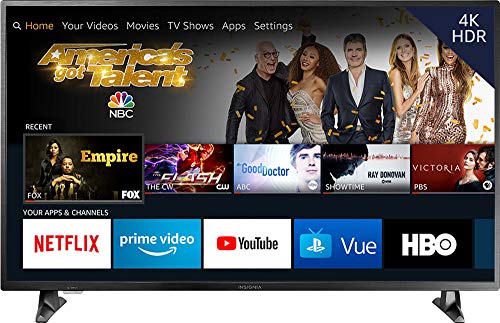 Insignia 4K UHD Smart TV – Fire TV Edition promises true 4K Ultra HD picture quality with over 8 million pixels for stunning clarity, deep contrast, and vivid colors.
This Insignia TV integrates very well with the Amazon Alexa voice assistant. It has a size of 50 inches.
According to our reviews, one of the features that can be written minus the sound for the product. Users and reviewers question the sound quality.
10

Sony XBR65X900F 65-Inch 4K Ultra HD Smart LED TV
The Sony X900F television offers the best in 4K HD TV picture quality. We're talking about stunning clarity and a high range color. We really feel 4K technology on this television.
This smart TV from Sony has a lot of features. One of the highlights is the TRILUMINOS technology combined with 4K HDR Super Bit Matching, providing the widest, brightest and most vibrant color palette seen on television.
Other details already come as standard equipment. so let's not elaborate too much.
Sony. Beautiful 🙂